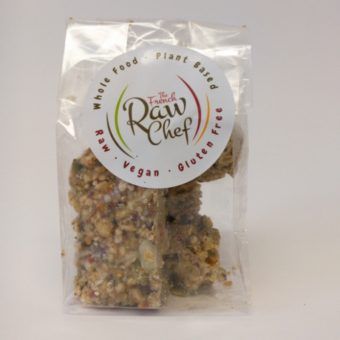 Nutritional Protein Nut & Seeds Bar
$10.00
Not your typical "health bar" filled with fluff to create the illusion of volume and held together with some dubious sugar derivatives. When we say whole food, we mean WHOLE food. No protein powder. emulsifiers, colouring, flavouring …just packed with seeds, nuts, dried fruits & bound together with cacao butter and our premium organic maple syrup.
Each bag contains the equivalent of 3 "off-the-shelves" healthy nutritional bars. Contrary to those bars that are usually way too sweet and will leave you feeling hungry again in 20 minutes, ours are filling, lasting and not too sweet.
After all, how would you eat a teaspoon of processed pea protein…yuck! Yeah! with a teaspoon of sugar. How would you eat a handful of nuts & seeds? Right, you don't need anything else. That's where the difference is.
Real Food To Live For ™
Questions and answers of the customers
There are no questions yet. Be the first to ask a question about this product.